How to Setup VPN on Android Phone or Tablet | Easy Step by Step Instructions | Screenshots included
In my previous posts, I have mentioned:
How to set up VPN connection on Windows
And
How to configure VPN connection in Linux.
In short, reasons for setting up VPN services are: anonymous surfing and downloading, security, privacy and defeating unreasonable censorship. Also Read this.
How to Configure / Setup VPN Connection in Android Device 
Goto 'Google play store' in the android device and download 'OpenVPN' application.

Subscribe to a VPN service. I use AirVPN. (You can also find free VPN servers if you do not wish to pay. However, there may be some bandwidth restrictions with free VPNs)

Login to the VPN service online and locate 'Generate Configuration files'. Choose 'Android Device'.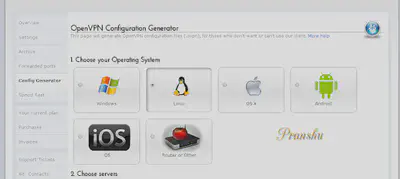 Download the .opvn and proxyauth files (Proxyauth is needed if your local network (proxy) requires authentication)

On the android device, open 'openVPN' –> 'settings' –> 'Import' –> Choose the location of the downloaded opvn file and 'Import' it.

Make sure your 'WiFi' is turned on and goto 'openVPN' –> Connect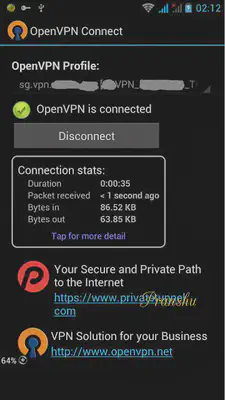 You will now see that openVPN is connected.
Disclaimer: I do not endorse downloading files for free through P2P clients.